Farewell - a new lead
It's been a wild ride. In 2006, I created OptaPlanner as a hobby project. For 7 years I worked on it in my spare time. Early 2013, Red Hat commercialized it as Decision Manager and OptaPlanner became my day job. My hobby became my job. As of today, I wrote 85% of the OptaPlanner code. And all of it is open source. Red Hat is truly an amazing company to work for.
Here's how 16 years of coding looks like: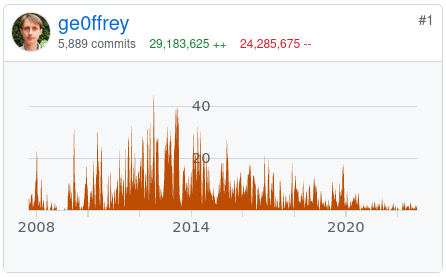 In 2019, IBM acquired Red Hat. Early this year, Decision Manager moved to IBM. OptaPlanner has now found a new home in Red Hat, following a new path in Application Foundations and OpenShift.
I 've decided to leave Red Hat, to focus on solving and optimizing business problems. So, I am passing the OptaPlanner lead role to Lukáš Petrovický, our talented, smart, long-term core developer. He'll do great.
---